Getting more YouTube subscribers to increase targeted traffic is a must if you want to succeed with video marketing. In this post, I'll show you how you can boost your subscribers and videos views with YouTube end cards.
Creating a YouTube end card strategy is one of the most powerful marketing tools you can implement on your YouTube channel.
Imagine if you had a way to get more subscribers and views without spending any money on ads?
What is a YouTube End Card?
Before I get into the specific YouTube end card strategies, you may be curious about what it is exactly.
An end card is also called an end slate or outro. It's part of the YouTube video that you create in your video editor. The YouTube end card is an image template with a branded design and calls to action.
These calls to action are typically things like:
Subscribe to your channel
Images with links to related videos
Images with links to your website
and so on.
You add the links after uploading the video to YouTube using Spotlight Annotations. These are invisible areas that you use to create links as overlays on your YouTube video.
These clickable "hotspots" can be linked to the following:
Video
Playlist
Channel
Google+ Profile/Page
Subscribe
Crowdfunding Project
Merch
What are the Benefits of a YouTube End Card?
Although there are many benefits to creating YouTube end cards for your video, focusing in on those strategies that will help grow your channel are the most important. Here are the top three:
Increase subscribers: Including a subscribe button on your end card and asking viewers to subscribe increases the chance that a person actually will click the button.
Strengthen your brand: By creating a YouTube end card strategy that is consistent with your brand, it's another chance for you to reinforce it for brand recognition.
Increase watch time: Did you know that YouTube video watch time is the most important ranking factor for videos? Keeping viewers engaged on your channel watching your videos is a marketing strategy that you should be using.
Creating a YouTube End Card Strategy
Before you create the actual end card, be mindful of your strategy. What is it that you hope to accomplish with the video end card?
FREE LIVE TRAINING THIS WED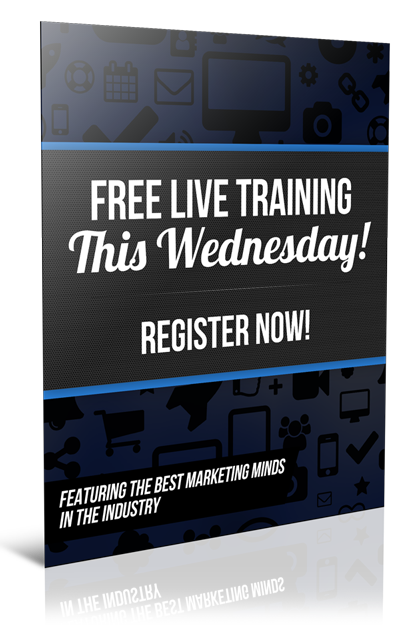 LIVE webinar with a 6-Figure Earner this Wednesday! Get strategies to help YOU get more leads & Profit in YOUR Business
Many people immediately think of sending viewers off their channel and over to their website. While that might sound like a great idea, that's not going to help you increase subscribers, views or watch time on your channel.
To grow your channel, stick with the aforementioned benefits. For any video, think about which related videos on your channel viewers might be interested in and encourage them to subscribe.
You can learn more about getting results with YouTube videos here.
How to Create an End Card for YouTube Videos
Once you have a solid YouTube end card strategy, creating the video end card is the simple part.
Create the End Card Image Template
The actual end card is an image that you'll be importing into your movie editor. The ideal and recommended size of the YouTube video end card is 1920 pixels wide x 1080 pixels height.
Here's an example of one of my end cards.

I use PicMonkey.com to create and edit the end card template and it works great. You can add whatever graphic elements you want to the template.
I also have a YouTube end card template you can download for free below.
Make a YouTube End Card in iMovie
If you use iMovie to edit your videos, then this tutorial is for you. If you are not using iMovie, you can still get some ideas of how to create the end card.
In iMovie, import your assets (including the end card image) into the Event. You'll add the end slate to the end of the video.
As a best practice, show your end card for 30 seconds or so at the end of your video. This will give viewers time to subscribe or click on other videos you want to direct them to.
Check out this tutorial to learn how to do it.
Adding Spotlight Annotations to YouTube End Cards
After you upload your video to YouTube, you can then add Spotlight Annotations as overlays. Check out this tutorial to learn how. This tutorial covers several type of Annotations and the Spotlights are covered at about the 4 minute mark.
Video: How to Add Annotations to YouTube Videos
Coming up with a strong YouTube end card strategy can help you increase subscribers and views on your channel. You don't have to be a huge company to enjoy the same success that huge companies often have.
By learning a few new YouTube marketing strategies and implementing them consistently you can grow your channel like a pro!
Do share in social media if you found this article helpful. Need help with your YouTube marketing strategy? Contact me and learn about my consulting services.